March 7, 2008 at 3:38 pm
#16412
Rattan
Guest
Total posts : 45366
I may see what I can do for that sort of measurement a little down the road, Ermi Roos. But at the moment I don't have the exact gear to do either measurement for the Q or the low frequency inductance. I'll give it some thought and see what I can maybe improvise.
So far as coils with a Q in the 1500 range, while they might be possible, I rather doubt they could be knocked off in an evening with wire from radio shack and an old CD one has chopped up. But this approach does lend itself well to the hobbyist of limited means who might like to tinker a bit with a different sort of coil.
I mentioned in my first post that I had serious doubts as to whether the first attempt at the spiderweb coil using 26 gauge wire would be very practical for a loading coil. The wire is just too thin and flexible to be my idea of stable enough and the turns move under your fingers when it's handled after the coil has been glued up and removed from the form. But for the sake of thoroughness, I measured the coil anyway with my capacitance/inductance/resistance meter. It actually measured very close to the predicted inductance, and light handling did not change the value.
(sorry scwis, I'm not seeing the clickable you referred to, though I think I'm looking at the place it would be. So I'll just paste in the addresses for the pics so they can be clicked.)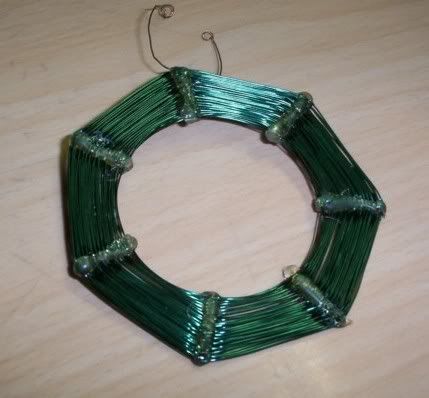 DC Ohms: 2.6
Measured Inductance: 246 uH
Predicted Inductance: 241.5 uH
It'd be at least workable, and probably better than no loading coil at all. But I personally found it difficult to get the winds anything like evenly spaced, and the sloppiness would almost certainly take down the efficiency.
The second was done with 22 gauge wire and I feel it came out better.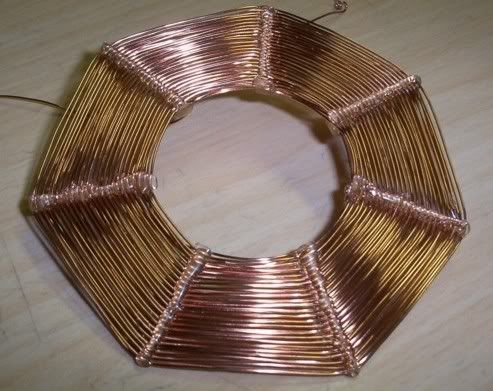 DC Ohms: .7
Measured Inductance: 209
Predicted Inductance: 207.7
I wasn't shooting for exactly the same inductance with the two coils, since there wasn't quite enough wire on the 22 gauge spool to manage it with the same form and I felt it was acceptable to give up a bit at the very low edge of the band that I likely wouldn't use anyway rather than splice/solder on more wire.
Here's a pic (not the best I've ever taken, but hopefully enough to give the idea) taken showing the edge of coil 2 so anyone who hasn't looked at one of these coils can (hopefully) see how there's space between adjacent winds. When looking straight on to the "surface" of the coil, what appear to be adjacent turns are actually "every other turn".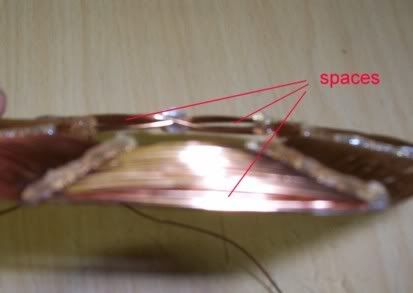 I *think* the 22 gauge version (coil 2) is physically robust enough for reasonable use in experiments. The 26 gauge (coil 1) might be usable , but the DC resistance being considerably higher is obviously not desirable. But either version can be put together out of the ubiquitous Radio Shack's infamous 5$ package of "assorted enamel coated magnet wire" an old CD and some odds and ends of hardware likely to be in most toolboxes and a bit of glue.
Now, the DC resistance is interesting, since to make the original SStran loading coil would take about 80 ft of wire by my estimate.. a spiderweb coil made in this way only takes about 40 ft. So if one was using the same gauge wire, that would be about half the DC resistance to get to the same inductance. Theoretically the Q is higher for the air core spiderweb coil, but even if it is not significantly so, the lower DC resistance could be of interest.
Spider web coils can also be tapped, of course, though I made mine without and plan on trying just tuning it with a capacitor for at least my initial experiments with using it as a loading coil.
Daniel